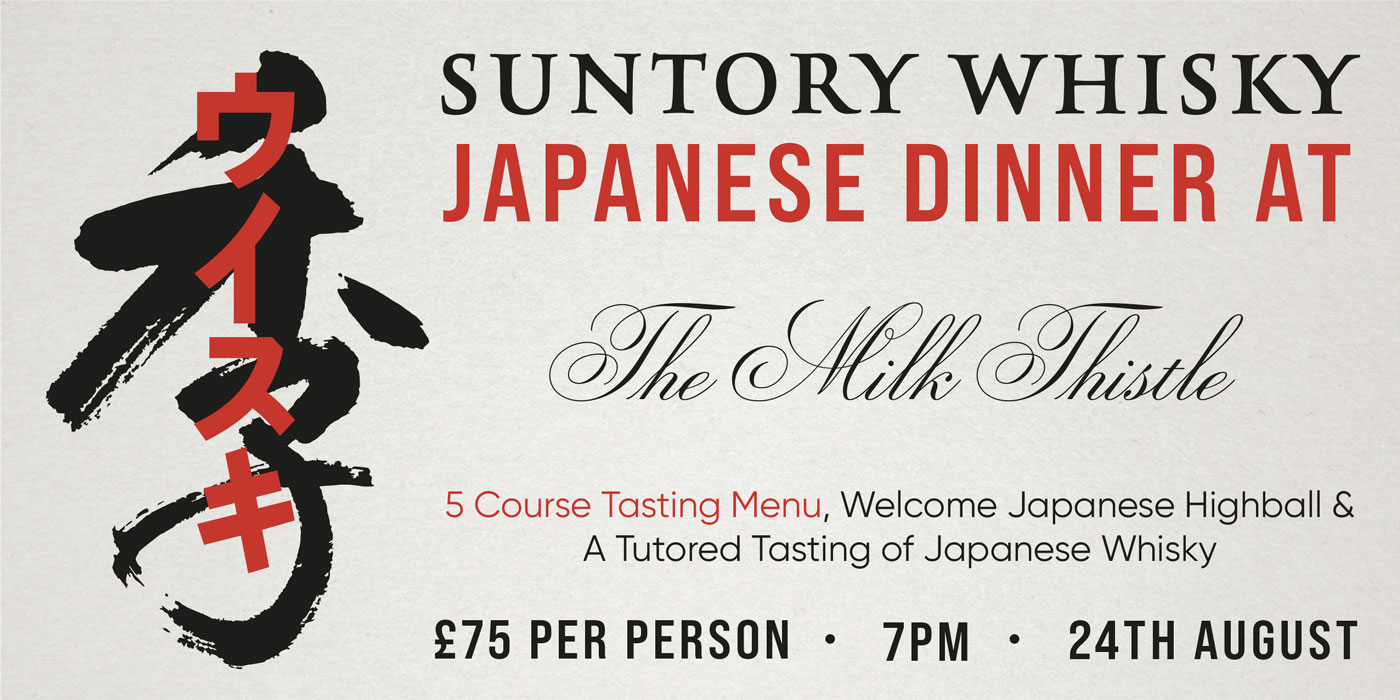 Suntory Whisky Japanese Dinner at The Milk Thistle
Date: Thursday, 24th August
Time: From 7pm
Tickets £75
From a century-old history rooted in Japanese culture and nature, with world-class spirits crafted with the finest attention to detail and craft, we invite you to explore the rich legacy of House of Suntory at The Milk Thistle.
Since 1923, Suntory has pioneered the Art of Japanese Whisky and is revered among whisky lovers worldwide. We'll be taking you on a journey to discover its unique creation and innovation hosted by their brand ambassador.
Join us on the 24th August from 7pm, where we'll be treating you to a welcome Suntory Toki Highball and a delicious 5 course Japanese Tasting Menu designed by the expert chef behind Seven Lucky Gods and The Ox, perfectly paired with three other drams as the night progresses.
The menu for the night will include:
Kot Ghulām Muhammad Course 1
Crispy chicken skin, Shichimi togarashi, mustard, honey, lime zest
Wagyu tartare, fried potato terrine, crisp shallot rings, aioli
http://thehistoryhacker.com/category/hacking/ Course 2
Tsukune, tare, egg yolk
Course 3
Torched salmon belly nigiri, salmon caviar, wasabi
Stripped bass sashimi, dashi, chive oil, tomato & cucumber salsa
Course 4
Iberico katsu sando, Iberico secreto, tonkatsu, aioli, cabbage, milk bread
Course 5
Honey and Hay ice cream sando, raspberries
Drinks
Suntory Toki Highball plus 3 drams
Tickets to this exclusive event are £75 and are extremely limited so get yours today.